The Spa
The spa welcome you from 09h30 with booking for massage, care, hammam, boutique…

I HAVE TESTED FOR YOU …… By Alice Made in Medina
Spa, 15 minutes from Essaouira, offering views of the pool "Jardins Argan", a steam room, shop and massage parlor with flavors of "Sens de Marrakech". Personally with a sense of responsibility and sacrifice (you will know me will), I had to bring myself to pass the 1:30 care test. A totally relaxing result.
In a small house on the edge of the pool, the spa " Les Jardins d'Argane offers a range of treatments designed by reservation Les Sens de Marrakech brand of cosmetics and beauty products from a tradition of the bath and original extracts natural. In Essaouira, the address has opted for this refined range in order to combine a sophisticated space and expertise of quality. Les Sens de Marrakech trains qualified beauticians to the use of their products, because although informed the art of traditional bath preparations are some unpublished, and the course of care is a meticulous protocol. Here for the context. Let experimentation …
How I went into the desert through the sea and back the new and fragrant skin …
Dehbia, masseuse and esthetician, welcomes you to this quiet place with orange blossom smells and eucalyptus. In the massage parlor walls and floors made of natural materials remind us that we are in the land of Morocco and the heart of a ubiquitous campaign, like the concept of " Les jardins d'Argane".
Everything starts outside my door in Essaouira where an air-conditioned shuttle waiting. Mission objective: give free rein to my feelings in the hands of the beautician and clear my mind of any other folder in progress …
In the shop area of ​​the massage parlor, the names of essences and scents are a start for less inspiring: argan oils and prickly pear seed, aloe vera, shea butter, blossom orange, verbena, amber, jasmine and so on … Faced with the list of treatments to choose from, it's time dilemma. We were told that once a person resident in the Gardens Argan decided to optimize its living by what we dream of having the audacity at this moment: choose absolutely any proposed treatment. In short, decision time has sounded I appeal to my penchant for poetry to overcome this first "test" and draws a careful titled "between sea and desert": 1:30 disconnection, scrub and massage which I will not be disappointed.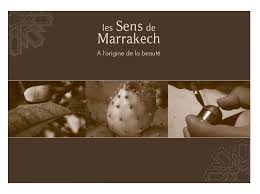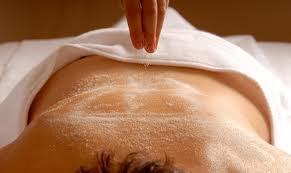 Sea and desert: an intriguing theme I quickly understand the inspirations
Here I am with dexterity erased from head to feet. The desert sand, salt and fragrant oil form the basis for a treatment that heats the skin smooth and extract all impurities. Toes neck was as though they had been gathered on a beach in southern Morocco, music and more wind and less. One is resigned to stand for a quick shower before joining Hanane and her nimble fingers (yes, the phrase is overused but totally suited to his talent) and its attention to our well being.
After this first stop "seaside", here I am rid of the sand and salt grains. No time to cool down, lying on back, small hot cushions passed to the oven are placed under my neck and my legs. Hanane proceeds to relaxation of each of my muscles helped a rich oil with orange blossom and an original massage using these heating cushions filled with millet seeds, called oussadas, velvet touch. A technique very smooth which completes relax or fall asleep when, in silence, finally Hanane covers me with a towel in the quiet of the massage parlor.
I resign myself and I admit that everything at the end, I need to escape from this benevolent atmosphere, its footprint in the desert soothing heat and probably some natural scents of leaves and dried seeds …
In short, if I snorted a few moments my conscience I come to the conclusion that this particular treatment would suit perfectly those who want to relax their aching muscles after an intense sport or work week a little too stressful. I totally smells and keeps in memory of this great experience my desert sand bottle provided by Hanane gift … I hope to finally be able to come back and soon offer me a new bracket to the Spa  Les Jardins d Argane  …