The Villa
THE JARDINS D'ARGANE VILLA & SPA
BY LES SENS DE MARRAKECH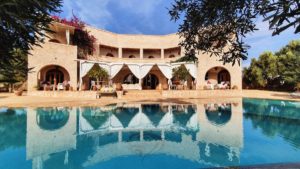 Located in the hills of the protected Thuya forest of Essaouira,10 mn by car, sheltered from the strong winds, in a sumptuous setting of greenery, and pine trees, The Jardin d Argane is a villa dedicated to nature lovers, calm and zenitude.
A charming house built in keeping with the traditions of craftsmanship and moroccan materials, which blends a redesigned moroccan decoration with optimal confort, which is declined on the garden arrnged on one hectare, with a garden of cacti, an orchard but its also a privileged for the children..and a space for the parents.
An authentic and simple luxury, appreciated by a large public in couple or in the family, here everything is adapted to your desires.
From Spa which welcomes small and adults for care adapted to hot, care four our toddlers withs " Fingers of Fairy" and "Petits Petons", but also for the big ones with our organic products, to the space of the garden where each can walking, thinking, méditationning, or play. In the restaurant that adapts to you, restoration first for children if you wish, vegetarian foods or gluten free foods but gourmand on request, everything invites you to relax, drinking a just pressed fruit juice on the swimming pool or near the fireplace…
A paradises at the gate  of Essaouira  with the fully refurbished port and cornice, the amazing médina and her's ramparts,  its beaches and endless dunes where you can escape by quad, horse, camel or by feet.. ans its famous gold drawing by Gary Player with 2 courses of 18 holes with the incredible vieuw of the island of Mogador and Essaouira Medina.
And an exceptional climate with more than 340 days of sun, and only 8 days of rain. And no excessive temperture, maximum 26°in Essaouira during summer and never less during night 14° !! And the wind during summer to have goog temperaure for the pleasure of surfers, kitesurfers, windsurfers..
Come to see the captivating Essaouira, you live it with pain !